What is Seller's Discretionary Earnings (SDE)?
Calculating SDE is a way to standardize or "normalize" a company's earnings so it can be more accurately compared to the earnings of other companies and the industry as a whole.
If you own a small to mid-size business, it's important to have a good understanding of Seller's Discretionary Earnings or "SDE" and how its calculated.
By doing so, you'll gain a better understanding of your business' true earnings, an accurate picture of its value, and insight on things you can do to enhance its value as you move forward.
In this blog, I'll more fully explain what SDE is, how it's calculated, and finish by showing a real world example of how you can recast your financials to calculate your SDE.
Let's jump in!
Definition of Seller's Discretionary Earnings
Seller's Discretionary Earnings is a measure computed for a small to mid-size business that takes its earnings and adds back interest, taxes, depreciation, and other adjustments to show the entire financial benefit provided to one full-time owner-operator.
The International Business Brokers Association (IBBA) defines SDE as:
"The earnings of a business prior to income taxes, depreciation, amortization, interest, non-operating income and expenses, nonrecurring income and expenses, one owner's entire compensation (including benefits and any non-business or personal expenses paid by the business)."
Why Is SDE Important?
There are a number of ways to value a business, but the most common valuation method involves applying a multiple to your company's earnings.
Here's the problem –
Unless you're one of the rare few who enjoys paying taxes, you've been working with your bookkeeper and/or CPA to make sure your bottom line stays as low as possible.
There's nothing wrong with taking every legitimate tax deduction, but it does present an issue when it comes time to sell.
Anyone looking to acquire your business will want to know the same things:
         1. "How much money would I be able to put in my pocket?"
         2. "How do the price and earnings of this business compare to other, similarly sized businesses?"
No two businesses are exactly alike – even businesses of the same size in the same industry will have their own unique set of books.
And determining an accurate picture of your company's value isn't possible unless it can be compared to similar companies in the marketplace.
That's where Seller's Discretionary Earnings come in.
SDE helps compare the cash flows and values of businesses by "recasting" or "normalizing" their financial statements so prospective buyers (and their lenders and investors) can estimate expected cash flows and more accurately compare your company to others.
Calculating Seller's Discretionary Earnings
Calculation of your SDE starts with your net profit.
Then, adjust or "recast" your financials by identifying items that should be added to, or deducted from, your net profit. These adjustments are known as "add-backs".
An add-back is defined as all, or a portion of, expenses that are added back to net income in an effort to place the figures as close as possible to the true economic earnings actually derived from the business.
Types of Add Backs
In general, add backs fall into one of the following categories: standard, discretionary, non-recurring, non-operating, and accounting adjustments. These items will vary from company to company, but understanding these major categories is helpful in identifying potential increases to SDE, and thus business value.
Standard
Here are the most commonly accepted add-backs:
Salary for One Full-time Owner
Owner's Payroll Taxes
Depreciation
Amortization
Interest
Discretionary
Discretionary add backs are expenses that don't necessarily contribute to the operating performance of your company or are unlikely to continue under a new owner. Examples include:
Personal Travel
Personal or Family Member Fuel
Club Dues
Owner's Health Insurance
Personal or Family Member Mobile Phone
Charitable Contributions
Non-recurring
One-time or non-recurring add backs are expenses that are unlikely to occur again in the future. Examples may include:
Legal expenses
Consulting or other professional fees
Transaction-related costs
One-time technology upgrades
Facility relocation expenses
Equipment repair/replacement/upgrade
Bad debt expense
Other
Additional accounting adjustments may be necessary to reflect your true earnings. These adjusts may add to, or subtract from, your profit. Examples include non-operating income (i.e.: the sale of a vehicle or piece of equipment), inventory adjustments, PPP loans, below market rent, and several others.
SDE Calculation Example: "ABC Lawn"

ABC Lawn has decided to get a valuation on their business.
The company has one owner, who takes a salary of $120,000 per year and works full-time in the business (A).
This year, the owner had to replace $10,000 worth of equipment when a waterline broke and flooded the warehouse (D).
The company is paying for a cell phone plan that includes family members of the owner (not currently employed by the business). (F)
The owner's family members are using a company fuel card to fuel their vehicles (G).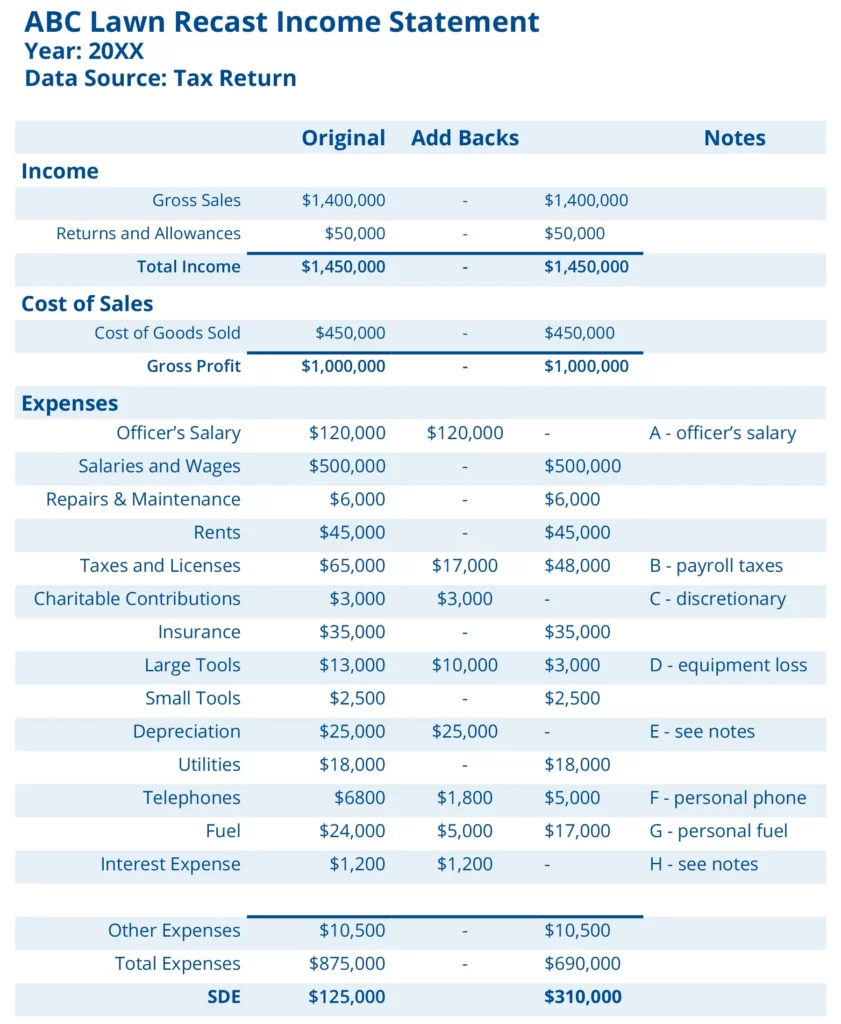 Permission: by, MidStreet Mergers & Acquisitions