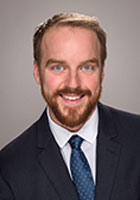 Chris Adkins
BUSINESS EXPERIENCE:
Chris served six years in the U.S. Army honing his discipline and work ethic during multiple overseas tours. While in service he managed and coordinated Battalion-Level combat operations during OIF-VII & OIF VIII.
After completing his service, Chris put his leadership skills and steadfast goal-oriented attitude into building a real estate enterprise in Houston where he was involved in acquisition, renovation, and selling over 200 individual projects. Chris' hands-on experience in owning and operating his own business gives him the ability to relate with buyers and sellers and to communicate in a language they understand. He is currently pursuing his Bachelor's Degree in Entrepreneurship at University of Houston.